News Item: Former Academy Player Achieves Global Success
(Category: Club News)
Posted by YHAWeb Manager
Friday 19 October 2018 - 13:58:34



Former Academy Player Achieves Global Success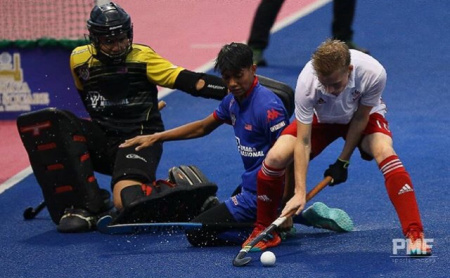 Well Done Dan & Matt!

We are delighted to share the fantastic news that former Academy players have achieved global success over the weekend.
Dan West, from Doncaster, was part of the GB U21 squad that won the Sultan of Johor Cup in India at the weekend and scored a vital goal contributing to the success.
Dan was joined in the squad by fellow Yorkshireman, Matthew Ramshaw who also plays for Loughborough Students. Matt and Dan have both been key members of their appropriate Academy Centres, Regional Performance Centres and the Pennine Pumas (North of England squad) during their early hockey careers and have played together for the EH National Age Group at varying levels.
These two, who have only recently left school, are 18/19, so their selection to the GB EDP squad is a fantastic achieve

ment - and to win the SOJ Cup is brilliant!
Dan was a member of Doncaster Hockey Club until last season when he relocated to begin his studies at Loughborough University.
Congratulations also go to Umpire Harry Collinson
from Thirsk HC who officiated at the tournament and due to GB making the final, he umpired the Bronze Medal game in which Australia beat Japan 6-1.
The Great Britain Elite Development Programme (EDP) squads for the 2018/19 season have been selected, with each of the Home Nations well represented.

Launched last season, the GB EDP is part of a strategic objective during the Tokyo 2020 cycle to accelerate the development of future medal winning Olympians.

The programme has already seen great success since its inception, with three members of last year's Men's GB EDP squad – Rhys Smith, Jack Waller and Zach Wallace – all making their senior international debuts in the recent Anniversary International in partnership with Toshiba TVs.

Furthermore, several players have had the opportunity to train with the senior teams over the course of the past year while both teams also took part in Six Nations tournaments this summer.

Speaking about the announcement, Heather Williams – the Head of Elite Talent Development at GB Hockey – said: "My congratulations to all the players who have been selected to the 2018/19 squads.

"It's great to see all Home Nation's represented in both squads, including new members who have come through their respective U18 National Age Group programmes.

"My thanks to all the coaches, clubs, friends and families, whose support is critical to helping these players balance the demands of elite level hockey and realise their potential."

While not age categorised, the EDP has been designed for athletes aged between 19-23 who may have the potential to become Olympic medallists. A thorough and comprehensive selection process has recently taken place.

Paul Revington will once again take charge of the Women's GB EDP while Jon Bleby will be Head Coach of the men's team, with GB Performance Director Ed Barney looking forward to seeing how the programme will develop further over the next year.

He commented: "The evolution of GB EDP has been a significant strategic focus for us through the first two years of the cycle - I am delighted to see the manner in which it has progressed and the quality of player development that we have seen.

"It's exciting and inspiring to see some of these players train, perform and compete on a equal footing when they spend time with the senior programme.

"Culturally, the programme has made huge steps and is much more closely aligned to the demands and expectations of delivering medal winning senior international performances.

"Huge credit must go to Heather Williams, Paul Revington and Jon Bleby for the all the work they have invested over the past year. We wish those newly selected players all the best as they strive to become medal winning Olympians of the future."

Both teams will attend a selection of training camps and tournaments across the coming months.

2018/19 Men's GB EDP squad
Rohan Bhuhi – Loughborough Students/England
Rhys Bradshaw – Cardiff & Met/Wales
Adam Buckle – Nottingham University/England
Tom Crowson – Loughborough Students/England
Max Denniff – Durham University/England
Jacob Draper – Cardiff & Met/Wales
Cameron Golden – Grove Menzieshill/Scotland
Gareth Griffiths – Beeston & Nottingham Trent University/England
Ronan Harvey Kelly – Loughborough Students/England
Will Hewer – Beeston/England
Evan Kimber – Loughborough Students/England
Callum Mackenzie – Cardiff & Met & Nottingham Trent University/Scotland
Kyle Marshall – Beeston & Nottingham Trent University/England
James Mazarelo (GK) – Bowdon/England
Andrew McConnell – Western Wildcats/Scotland
Aidan McQuade – Grove Menzieshill/Scotland
Tim Nurse – Bath Buccaneers/England
James Oates – Hampstead & Westminster/England
Nick Park – Beeston & Nottingham Trent University/England
Josh Pavis – Nottingham University/England
Oliver Payne (GK) – Durham University/England
Matthew Ramshaw – Loughborough Students/England
Toby Reynolds Cotterill (GK) – Hampstead & Westminster/England
Stuart Rushmere – Bath Buccaneers/England
Tom Russell – Brooklands MU & Liverpool John Moores University/England
Duncan Scott – Exeter University/England
Tom Sorsby – Surbiton/England
Jack Turner – Durham University/England
Ross Vides – Durham University/England
Ioan Wall – Cardiff & Met & Swansea University/Wales
Eddie Way – Birmingham University/England
Daniel West – Loughborough Students/England

---
This news item is from Yorkshire Hockey Association
( http://yorkshireha.org.uk/news.php?extend.3037 )